The Unsung Badmother****** Award: Jose Luis Garcia-Lopez
June 12th, 2009
Welcome to the latest installment of a recurring feature on WORLDOFHURTONLINE.COM: The Unsung Badmother******* Awards!
The Unsung Badmotherf****** Award recognizes Outstanding Achievements In The Field of Badassery Deserving Wider Recognition.  The Unsung Badmother****** is the guy who made a splash and kicked some ass, but remains largely forgotten by the masses.
The UBMF Award is named after the oft-quoted moment in the "Theme from Shaft" when Isaac Hayes is abruptly interrupted by his backup singers before he can fully extol the badass virtues of his man, Shaft.  If people remember nothing else about the movie "Shaft," or Blaxploitation in general, they remember that line, and it immortalized Hayes and made John Shaft a cinematic icon.
This month, Brian Cronin of Comic Book Resources.com is running a feature entitled, "Month of Art Stars: Artist's Choice, " which celebrates artists who deserve special attention or wider recognition.  The series has a nice hook, wherein instead of offering his own selections, Mr. Cronin has solicited professional comic book artists to choose the artists.
Early entries in the series included lesser-known, but still tremendously gifted artists, but Dave Gibbons, the renowned artist of such works as Watchmen, Give Me Liberty and his own original graphic novel, The Originals, suggested a veteran artist.  The artist in question also happens to be one of my primary artistic inspirations: the one and only Jose Luis Garcia Lopez.    Of course, I felt compelled to weigh in on the comments section-several times-but then I realized, "Hey, I've got my own blog, why don't I link to the article?"  Then I thought, "Hey, why don't I do my own entry on Jose Luis Garcia-Lopez on said blog?"
But enough of my internal monologues, let's get down to business!
With a special tip of the hat to Mr. Brian Cronin, WORLDOFHURTONLINE.COM is proud to announce the latest recipient of The Unsung Badmother****** Award…Mr. Jose Luis Garcia-Lopez.
Jose Luis Garcia-Lopez started his comics career in Argentina, but since his arrival in the United States, nearly all of his professional work has been with DC Comics.  In the early 1980s,  Garcia-Lopez was tapped by DC Comics to create their Style Guide, which established the definitive versions of their intellectual property.  The Style Guide was used by licensors and other DC artists to create a unified brand identity for the DC Universe's vast array of comic book stars.  I seem to even recall hearing an anecdote that some artists would seek out work with DC just so they could get their hands on the Style Guide.
As I stated in the comments section of Brian Cronin's post, even if you're not familiar with Jose Luis Garcia-Lopez's name, you've already seen his work on everything from milk ads, collector's glasses, bed linens, stationery, backpacks, toy packaging, t-shirts, or any other merchandise or advertisement featuring characters owned by DC Comics.  If you perform a Google image search on "batman" and "t-shirt" or "wonder woman" and "t-shirt," looking for apparel that actually features images of these characters, the first ones you come upon will more than likely include illustrations drawn by Mr. Garcia-Lopez.
Besides being the hidden hand behind the DC marketing machine, Jose Luis Garcia-Lopez was, and remains, a gifted sequential artist.  By his own admission, he was a slow artist, so his output of comic book work is relatively low, despite his decades-long career.  His body of work is peppered with short runs on established series.  However, each page he drew is a remarkable demonstration of Garcia-Lopez's storytelling mastery, boasting clean, open lines; innovative, but clear layouts; and a dynamic, but natural, approach to the human form.  Quite simply, the man can draw anything and draw it freakishly well.  Note all the different types of people in the crowd scene below and how the body language, clothing, builds, and faces are unique to each one.
Here, Garcia-Lopez creates a sophisticated and sexy Lois Lane and a casual, relaxed Superman who looks perfectly at home in tights among diners in evening wear:
Jose Luis Garcia-Lopez's longest run on a series was the fan-favorite Atari Force, and he also worked his magic on the Eisner Award-nominated, three issue, sci-fi miniseries Twilight, which was written by comic legend, Howard Chaykin.  However, my favorite work of his was the 1988 four-issue mini-series Cinder & Ashe. I have literally read the covers off two sets of this series, and am quickly working my way through a third.
Cinder & Ashe, written by frequent Garcia-Lopez collaborator Gerry Conway,  is about two New Orleans-based freelance security specialists who take an assignment to rescue the kidnapped daughter of an Iowa farmer.  Jacob Ashe is a Vietnam veteran and ex-soldier of fortune, while Cinder DuBois, his female partner is a half-Asian, half-Black,  former street thief that Ashe saved from certain death during the Fall of Saigon.  Cinder & Ashe's case involves a conspiracy that ultimately brings the duo into the orbit of a mysterious figure with dangerous connections to their own tragic pasts.  The story flashes back between their earlier lives and the then-present day of the late 1980s.  The theme of the series is about the destructive power of secrets, how they overwhelm us, haunt us, and how we must ultimately confront and overcome them. 
Garcia-Lopez draws the hell out of every inch of that book.  He takes you from the bayous of Louisiana, to the fields of Iowa, to a climactic battle at the recently commissioned Vietnam Memorial in Washington, DC.  Every detail feels authentic without being over-rendered or overly  photo-referenced and every panel bleeds emotion or thunders with visceral, cinematic action.  This series would be right at home on the stands today next to any of DC Comics' Vertigo line, and I can't think of any good reason good reason why they haven't reissued it in a trade paperback edition.  Apparently, Planeta-DeAgostini, a Spanish publisher, has secured the rights for a Spanish-language hardcover collection, but I don't think they have the rights to sell the trade directly into the United States.  (Believe me, I've tried.)
To date, despite his long, storied career with DC Comics, the comic book company has yet to publish a collection of his work, however independent book publisher, TwoMorrows Publishing , has stepped up to the plate by devoting an edition of their "Modern Masters" series to Jose Luis Garcia-Lopez.  It provides a wonderful retrospective of his career and never-before published illustrations, sketches, character designs, and concept illustrations by the artist.  If you're a comic book fan, you owe it to yourself to buy a copy.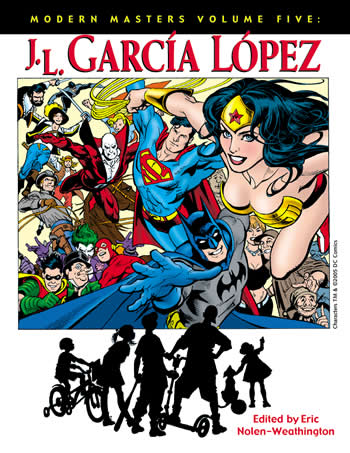 Jose Luis Garcia-Lopez most recently completed a three-issue run on Batman: Confidential #26-28, which was inked by Kevin Nowlan.  The pair will team up again on a Metal Men feature for the upcoming DC Comics series, Wednesday Comics.
Finally, I'd like to leave you with an image of an original, second-hand Jose Luis Garcia-Lopez convention sketch I picked up off eBay for a great price.  It's my long-held desire to buy an original comic book page by the man, but until that time comes, this will have to do.
- JEP
(NOTE: There's a great selection of Jose Luis Garcia-Lopez's work at http://master-post.livejournal.com/.  Some of the images above were pulled from that site, so I wanted to give credit where credit is due. )