It's obvious that I'm a film buff.  Recently, I've come to notice some cinematic trends that keep worming their way into a fair number of movies.  I've put a few together with the hopes that we can all agree to put a five-year moratorium on the following movie tropes?
#7: Architects
Sometimes, I think when Hollywood screenwriters are pressed for ideas about occupations to give their protagonists they open a dictionary or log onto Monster.com and stop at the letter "A."  It seems like a disproportionate number of movies feature lead characters who are either ad executives (The Santa Clause, The Ex, Picture Perfect, What Women Want) or architects.  Mostly, they're architects.  In the magical world of movies, EVERYBODY is an architect.  Using the handy-dandy resource that is IMDb.com, just a cursory look at movies that feature main characters who are architects brings up Click, The Lake House, you, Me and Dupree, Just Like Heaven, It's Complicated, Indecent Proposal, The Brady Bunch Movie, White Noise, Wrong Side of Town, Last Night, Housesitter, One Fine Day, The Quiet, Three Men and a Baby, Town & Country, Mystic Pizza, Firewall, Before Sunrise, Life as a House, The Frighteners, Orphan, Deathwish, Inception, (500) Days of Summer….need I go on?  With the exception of Inception (say that five times fast), being an architect isn't integral to the story.  It's just a job that sounds cool. (Also, the 2004 film, Addiction, features a "successful ad executive" married to an "cozy (?) architect."  That's a TWOFER, baby!)
#6:  Still I "Rise"
Type in "Rise of" on IMDB.com and you'll see that "rising" is almost as popular when titling movie franchises as the venerable colon.  This past decade we've seen GI Joe: Rise of Cobra, Terminator: Rise of the Machines, Fantastic Four: Rise of the Silver Surfer, Van Wilder 2: The Rise of Taj, The Scorpion King: Rise of a Warrior, Underworld: Rise of the Lycans," and in 2012, we'll see Batman returning to theatres with the movie, The Dark Knight Rises.  As a percentage of movies released, there's really not that much "rising" going on, but the high profile of most of these films and the generous use of "rise" in video games makes the "rising" seem more omnipresent than it is.  Using "Rise of…" in a movie's title is a fairly new development.  I'm certain it will burn itself out in fairly short time, but for me, that can't come soon enough.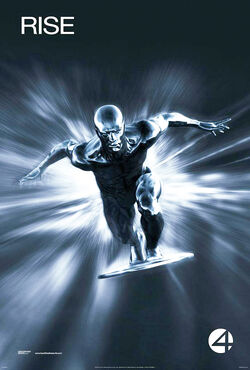 #5:  Supervillain Party-Poopers
It seems like virtually every superhero movie franchise created after Superman II has to feature a scene where the villain proves his bonafides by crashing some kind of  ball/party/festival/extravaganza.  Usually, the hero is conveniently in attendance, because the party is being thrown by the hero himself or his employer.  Every Batman movie has featured a villainous party crasher, Iron Man had his Stark Expo attacked by Mickey Rourke, and Spider-Man had to endure the Green Goblin breaking up a street fair AND the singing of Macy Gray (I kid!).  Based on the trailer for the upcoming Green Lantern movie, it seems like even everyone's favorite space cop could face some calamitous party-crashing.
#4    The Slow-Mo "The-Gangs-All-Here" Walk
Right or wrong, I blame Quentin Tarantino for introducing this one to the world.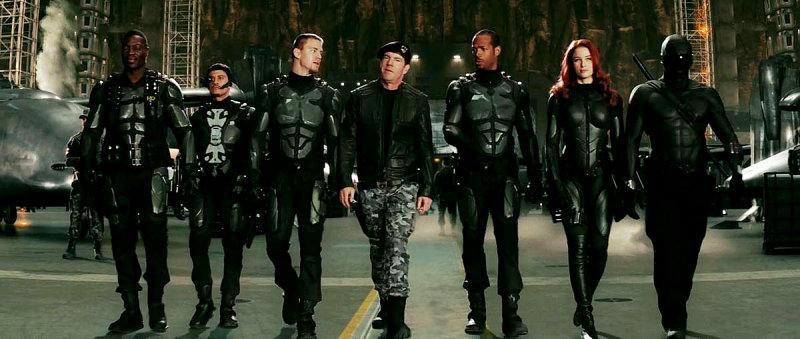 #3:   Slow-Mo Walk Away From An Explosion
At this point, I think even the average movie-goer recognizes what a tired cliche this moment is.  Originally, I'm sure it was a nice cinematic shorthand to establish a character's bad-ass bonafides,because of his nonchalance as flesh-searing heat; knee-buckling and ear-drum shattering blast waves, and nearly supersonic shrapnel flew toward his exposed back.  Once Christian Slater did it in the promos to his short-lived 2009 TV series, My Own Worst Enemy, the bloom was off the rose.  Will Ferrell and Andy Samburg seemingly put the nail in the coffin later that same year with their song "Cool Guys Don't Look At Explosions" at the 2009 MTV Movie Awards:
X-Men Origins: Wolverine was in the can before the awards program aired, so hopefully this film represents the last time we see this particular trope in the wild for some time.
#2:   The Two-Gun Pistolero
From what I understand, you can't properly fire two pistols at two separate targets at the same time.  I think this particular movie cliche had its origins in Hong Kong cinema of the 1990s, but it reached viral stage with the release of The Matrix.  The use of acrobatic, double-fisted gun play in the action films coming out of Hong Kong was the coolest thing American audiences had seen in a long time, because it was a fresh, exciting way to portray a gun fight.  Now it's just warmed over Chow Yun Fat.
#1  The Mexican Standoff
You know what I'm talking about.  It's the moment where two parties draw their weapons at the same time and dare each other to fire.  For extra kewlness, it will be a whole gaggle of folks on each side and they'll spend a good 10 seconds waving their guns around from target to target until:
a.  someone walks in doing a variation of the line, "Whoa, who, whoa!  Guys!  Guys!" or,
b.  the oily villain laughs heartily and says something along the lines of, "You drive a hard bargain. I like your moxie," or
c. something goes tragically wrong and everyone dies in a tragicomic hail of gunfire.
I was going to blame Tarantino for popularizing this one in Reservoir Dogs, but I'd prefer to lay the blame at George Lucas' feet:
- JEP